A few days ago, the Tunisian Ons Jabeur, the first Arab and African player to enter the top 10 and world number 2, told Charlotte, 8, the daughter of his opponent in the semi-finals and dear friend Tatjana Maria, "Is would you support me or support your mom?! I was just trying to turn her kids to me," she laughed during the press conference ahead of the women's singles semi-final.
Just after Jabeur won the semi-final in straight sets, the two friends wrapped themselves in a warm bear hug at the nets, seemingly struggling to tear each other apart. Once the handshake with the chair umpire was over, Germany's Maria, who made a return-to-sport mother with two daughters, the second just a year ago, began to walk towards her chair. At that moment, Jabeur led her back to the court and waved to the crowd to greet his friend.
Bright sunshine, green grass, tears in the stands, applause in the air and two friends soaking it all up on a dreamy day – it was quite a sight and quite a journey for both of them .
Last January, Jabeur called a meeting with his team to discuss the road ahead. She told them she wanted to be in the top 20 by the end of the season. Before the end of this season, the Tunisian had become the first Arab, woman or man, the first African to appear in the top 10. "I was ready. And then I think my whole mindset changed (after that meeting). I wanted it to go as far as I (could), I love seeing Arab players on tour with me," she told the Olympic Channel last year. She would reach the quarters of the Australian Open and Wimbledon.
Tunisia's Ons Jabeur celebrates a point win over Germany's Tatjana Maria in a women's singles semi-final match on day eleven of the Wimbledon Tennis Championships in London. (AP Photo/Kirsty Wigglesworth)
Last April, her Barbeque friend Tatjana Maria, with whose family she shares a close relationship, whom she beat in three sets in the Wimbledon semi-finals, released a charming home video. Sunshine, laughter at an outdoor lunch table, drawing with her then 7-year-old daughter Charlotte, a bit of tennis, a bit of billiards, and she would then announce that she was going to have a second child and would take a break.
Jabeur could be seen holding Charlotte's hands and walking outside the courts. "I love Charlotte. She plays tennis. It's really amazing. The little one is always smiling. I love the family.
Meanwhile, in Tunisia, during last year's French Open, people flocked to cafes at 4 a.m. to watch Jabeur's matches. "I've seen a lot of crazy pictures of cafes." Jabeur continued to rack up wins on the circuit. "We (didn't have) a lot of Arab players or African players winning Grand Slams. It was a big breakthrough for Tunisia. They were really happy to see someone win those kind of (tennis matches). It was great."
New mother Maria would return earlier this year to try the sport again. Her idol is Kim Clijsters, the Belgian who won three Grand Slam titles after becoming a mother. Last week, Clijsters was on center court at Wimbledon, applauding Maria's heavy play. "I was one of the first after Kim," Maria said. "She was my inspiration, and I hope that maybe I can be an inspiration to others."
The return was not easy, although she had the experience of returning a year after her first child in 2014. The pandemic had made the situation worse with no crèches at the sites. Worse was the WTA rule for mothers. There are no compassionate allowances made for mothers. No rules for them to keep their ranking during their maternity break. Instead, they are clubbed with players taking injury breaks – called protected classification. Even there, Maria would have worse.
Injured players retain their ranking for 12 weeks. Maria was fit again after her pregnancy that she returned four weeks earlier in the eyes of the WTA Tour. As a result, they only allowed him eight tournaments.
"It is absurd that pregnant women are considered injured. Unlike the men, the women's protected ranking only applies to two of the four Grand Slam tournaments. A while back at the WTA we suggested reconsidering that. We were listened to, but we said that the best players did not want a change.
Thanks to my victory in Bogotá, I almost returned to the world ranking where I was before getting pregnant. I no longer need this help. But it would have been nice to have it before," she told Ziet Online in March.
Her friend Jabeur is completely empathetic towards her. "It's amazing what she [Maria] did when he came back to play. I know how hard she struggled. She deserves points for motherhood…"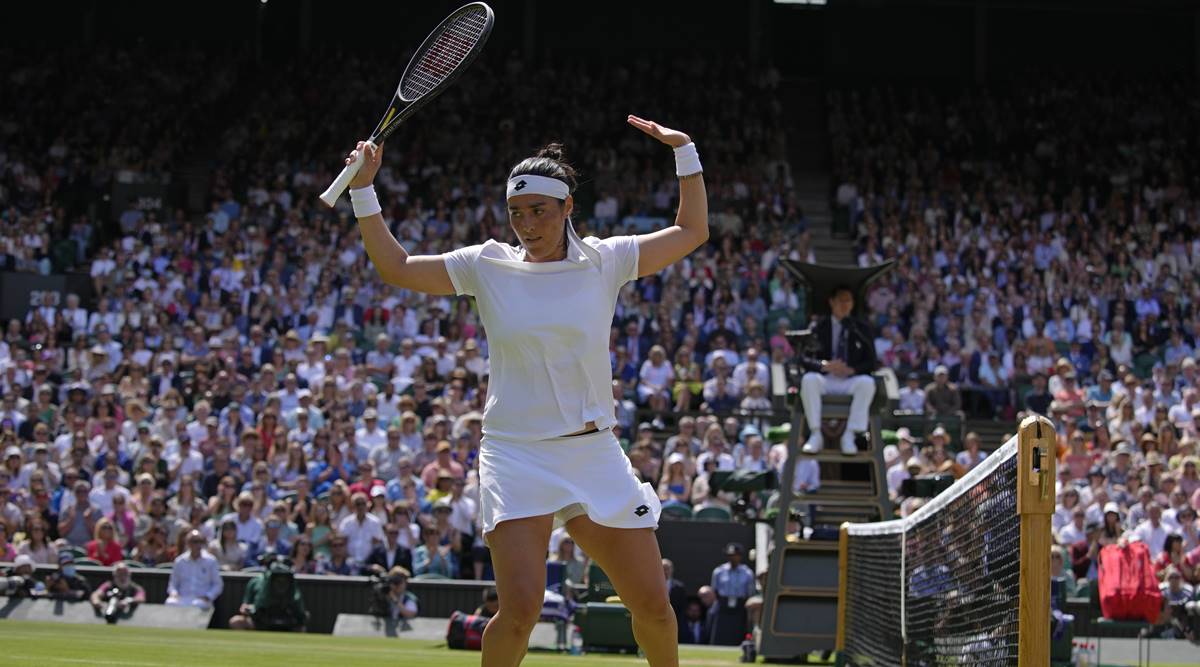 Tunisia's Ons Jabeur holds her hands up to show she avoided touching the net after making a comeback to Germany's Tatjana Maria during a women's semi-final match on day eleven of the Wimbledon Tennis Championships in London . (AP Photo/Kirsty Wigglesworth)
Jabeur's own struggles had begun when he was 13 years old. She moved to the capital Tunis and lived away from her family. I studied and played tennis at the same time (in Tunis). It was a bit of a challenge for a 13 year old to be away from home…and hard to wake up at 5am, train and stay there until 8 or 9 at night . They were very difficult times, but I think I had to go through them to be able to become the person I am today," she told the Olympic Channel. The first African and Arab female tennis player to break into the top 10 lived a nomadic life, pursuing her dream on her own.
Things changed in 2017, when she broke into the top 100. The International Tennis Federation (ITF) awarded her $50,000 from their Small Nation Tennis Player Grants.
"It was really important for me to be able to pay my staff, to pay a coach. You know, tennis is expensive and you need a lot of money to travel. I'm always grateful for this ITF fund and the way that they helped me. I mean, I'm really, really grateful for that. It was like an amazing year for me, playing stress-free for the money. I could play stress-free… I felt stable. I I was able to really play a lot of big tournaments.
"The younger generation is much more motivated. I can see in Tunisia, I can see there are a lot of talented young players and I hope I can really inspire them. And one day, I will be able to share my experience and show them the way… and (how) not to make the same mistakes as me.
Tatjana Maria made no mistakes; it was the WTA that got it wrong. She couldn't believe that top female players would be against the introduction of a ranking retention policy for mothers, as claimed by the WTA.
"I don't believe in the WTA that it's really the best players who are against it. Nothing changes for them, on the contrary. It would also be beneficial for them if they have a child and want to come back. And the very big stars like Serena Williams gets wildcards for tournaments they want to play anyway if they are away for a longer period, however, the WTA's reasoning makes no sense.
She plans to train with other touring mums like Kateryna Bondarenko so her first daughter Charlotte, now 8, can have company. Charlotte has taken up tennis a lot, during the pandemic break at home, where there is a tennis court, she was regularly hitting balls with her mother – and with her father who is Maria's coach.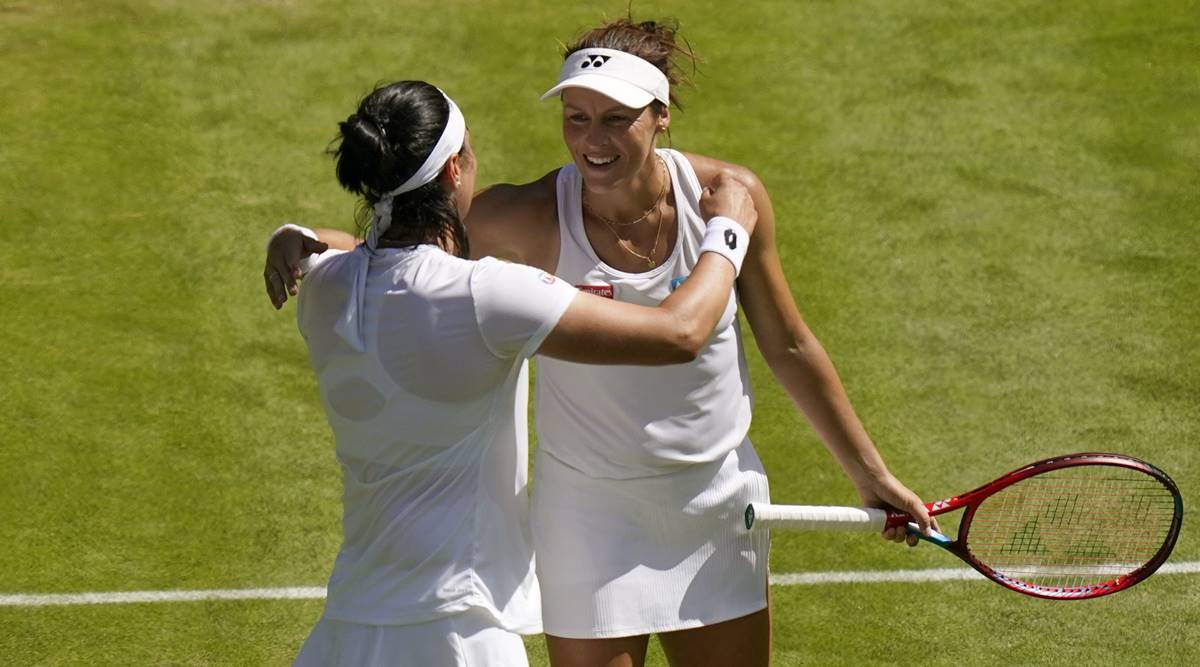 Ons Jabeur of Tunisia, left, embraces Tatjana Maria of Germany after beating her at the end of a women's singles semi-final match on day eleven of the Wimbledon Tennis Championships in London. (AP Photo/Gerald Herbert)
Charlotte, says Maria, loves traveling to tennis tournaments, playing the game with other children. "She really wants it!" (laughs) Charlotte always says: "I'll be a tennis pro too!" She trains every day and plays very well. She even got a kit deal from Nike in Australia – that's great of course! Meeting the top stars, standing on center court at Wimbledon, that's normal life for her, she doesn't know anything else," says Maria.
The day before her semi-final against Jabreur, a journalist asked her: Does it suit her to talk about motherhood all the time? Wouldn't she want to answer more questions as a tennis player?
Mary smiles. "I love talking about it. Being a mother to my two children is the most important thing in my life. It won't change anything. I'm in the semi-finals of Wimbledon, yes, but I'm a mother first and foremost."
Fittingly, the game itself would be a three-way game. Their individual matches were perfectly captured at one point in the second set when Maria served 3-1 on match point. A few nice slices follow, from Maria's forehand and Jabeur's backhand, before Maria slices the backhand, deep down the line, and the ball spins further up the field. Jabreur runs back, collects the ball behind her shoulder and somehow lands a forehand past her friend. She was raising her left hand, fist curled up and holding the pose.
At the end of the match, Jabeur said: "It was difficult to run for his balls. She killed me. She has to barbecue me now for all the errands I've done in the field. Maria said: "It was her moment – ​​after all, it's the first time for her in a Grand Slam final, but she wanted to celebrate it with me. I hope she goes all the way."