Speakers at the press conference regarding the upcoming Commonwealth Games. Photo: STAR
">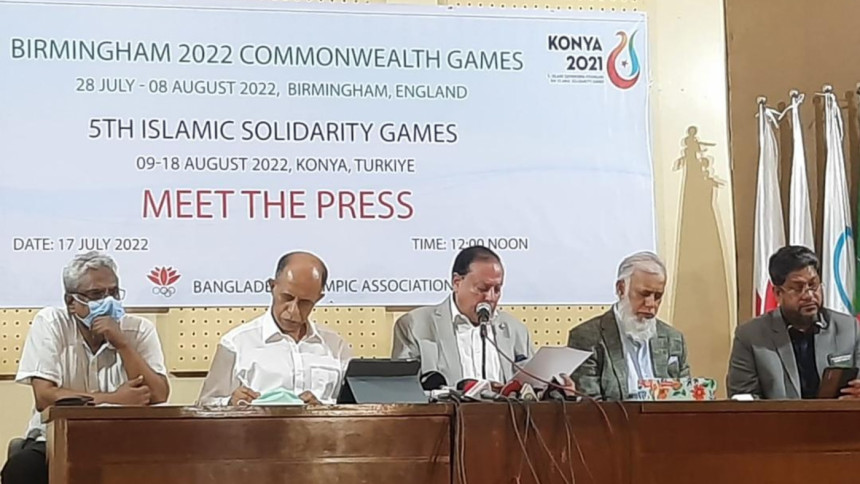 Speakers at the press conference regarding the upcoming Commonwealth Games. Photo: STAR
All eight medals Bangladesh have won in Commonwealth Games history have come from shooting, but the discipline's exclusion from the upcoming Birmingham edition has put Bangladesh in soul-searching mode.
A 50-member contingent from Bangladesh is set to take part in the 22nd edition of the multidisciplinary show, which will be held from July 28 to August 8 in England.
For all the latest news, follow the Daily Star's Google News channel.
The Bangladeshi contingent will depart in phases for Birmingham from July 20 to compete in seven disciplines – athletics, boxing, gymnastics, swimming, weightlifting, wrestling and table tennis – but organizers are not expecting much in the way of medals.
"The chances of winning medals in Birmingham have diminished a bit due to the exclusion of shooting and archery, but we hope the athletes will do their best on the world stage and bring laurels to the nation. "said Syed Shahed, Secretary General of the Bangladesh Olympic Association. Reza told reporters during an official press conference at the BOA auditorium on Sunday.
At the last Games held in Gold Coast, Australia in 2018, shooter Abdullah Hel Baki and Shakil Ahmed won a silver medal each in their respective events while the rest of the athletes went home empty-handed.
"We have a good possibility to produce better results than the last edition because we have a good sprinter [England-based sprinter Imranur Rahman] who is fine. The table tennis team has also produced good results at international level in recent years, while the boxers are also performing well. We expect something better in other individual events as gymnast Ali Kader is expected to reach the last eight of his events," said Bashir Ahmed Mamun, Vice President of BOA and President of the Bangladesh Gymnastics Federation. .
Responding to a question, Shahed Reza said: "50 years after independence, we have no intention of sending athletes to the Games as token participation, rather we want results. But we lack long-term training and financial ability. I'm not disappointed, however, as we've improved over the past eight to 10 years, two of our athletes have qualified directly for the Olympics."
After the Commonwealth Games, an 84-member Bangladeshi mega-contingent will compete in the 5th Islamic Solidarity Games, to be held in Turkey from August 9-18.
Bangladesh will compete in 11 disciplines – athletics, archery, fencing, gymnastics, handball, karate, shooting, swimming, table tennis, weightlifting and wrestling – with expectation of good results in archery, athletics and gymnastics.
Bangladesh won a gold, a silver and a bronze in the last edition of the Islamic Solidarity Games in Baku, Azerbaijan in 2017. Shooters Baki and Syeda Atkia Hasan won the gold in the mixed 10m air rifle event while shooter Rabbi Hasan Munna and wrestler Shirin Sultana won silver and bronze medals in their respective events.