Imagine playing table tennis on a badminton court and hitting a smash like in tennis! If that sounds foreign to you, you must not have heard of pickleball. The game, which originated in the United States in 1965, is played with a square paddle and a wiffle ball (perforated plastic ball with 30 to 40 holes) and is currently gaining popularity in India.
So what's so exciting about the game that's seeing an influx of new players ranging from school kids (9+) to retired professionals (65+)?
What is Pickleball? How big is the game in India?
Sunil Valavalkar, who is credited with bringing pickleball to India, said the best part is that even those who haven't played any sport in their life can just learn the basics of the game in an hour or two.
All you need is an existing tennis or badminton court, a net, a paddle, a ball and you're done. Like tennis, badminton and TT, the object of the game is to send the ball through the net and prevent your opponent from returning it.
"Everyone who learns this sport starts thinking that they are Rafael Nadal or Roger Federer which makes this sport interesting and addictive," said Valavalkar, President of the International Pickleball Federation (IFP) and Founder of All India Pickleball. . Association (AIPA), told ABP Live.
Currently, Pickleball is played in 17 Indian states and has over 15,000 registered players, according to the All India Pickleball Association (AIPA).
"Pickleball is an easy game to pick up and unlike other racquet sports, the rules of pickleball are more simplified to include even players who have never held a racquet before," said body member Raj Sengupta. Director of the State of Uttar Pradesh. Pickleball Association (UPSPA).
Although the game is still mainly played on badminton courts in most states, dedicated pickleball facilities have sprung up in sports complexes in Mumbai, Delhi, Jaipur, Bangalore, Indore, Chhattisgarh, Sikkim and Hyderabad. In September, Uttar Pradesh got its first pickleball court at Noida Stadium.
"It's rare to find a sport like this, where you can have this mix of crowds of wide age brackets. The recognition of having seen a grandfather excel on the pitch by his son or grandson is huge and it's an immediate hit among many who haven't played any form of sport in their life," Aman Grover, General Secretary of the Uttar Pradesh State Pickleball Association (UPSPA), told ABP Live. .
For Pradeep Kumar Saxena, a heart patient, it would have been a laughing matter if you had told him about six months ago that he would win a medal at a national sporting event at the age of 65.
Saxena, who is also the president of UPSPA, won the bronze medal at the national pickleball championship organized by the All India Pickleball Association (AIPA) in Telangana.
"I have been a heart patient for two years and the doctors advised me to rest but this incident never put me off. Never think about age and never be discouraged or think twice about to choose a new game or sport in life," Saxena, who is also a state-level shooter, glider pilot and marathon runner, told ABP Live.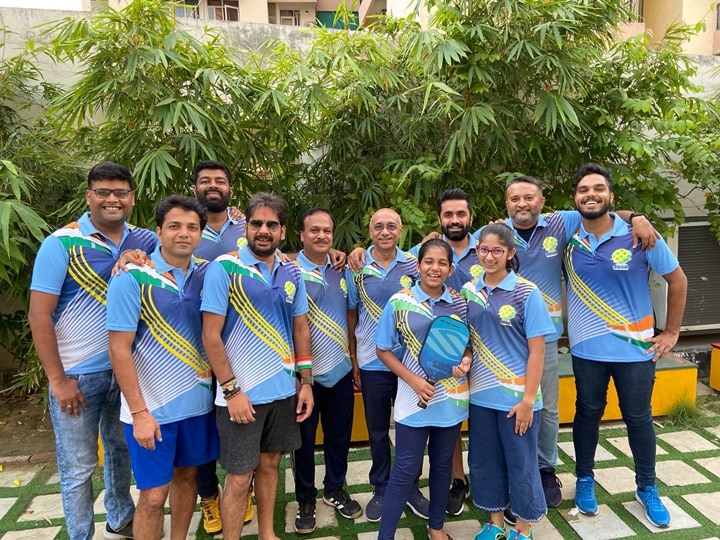 So what is the attraction of the game that brings Prabhat Mani Vats, Kalpit Sharma, Vineet Chaturvedi, Ashish Gupta, Sunil Garg and dozens of others, who have other jobs, to the badminton court of the Prateek Laurel company from Noida every morning?
"I've been playing badminton for a while. What I love about this game is that you don't need to have played any sport before trying Pickleball," said Vats, who recently won a bronze medal in the men's 40+ singles. age category at the Indore Pickleball Championship, said.
"The game is not as intense or physically tiring as badminton or lawn tennis. Now it's addictive for many of us who play this game on a daily basis," said Vats, 41, then that he was rushing to log into the office after playing. some doubles matches.
How did pickleball start?
The paddle sport has a very interesting history. Pickleball was invented in 1965 by three friends – Joel Pritchard (a congressman), Bill Bell and Barney McCallum. It turns out that the three friends and their family gathered at Pritchard's home in Bainbridge Island Washington for a reunion.
Soon their children were bored and the trio tried to organize badminton at an old court nearby. However, they couldn't find the right equipment and the friends improvised and played with table tennis rackets and a perforated plastic ball.
And so the game of pickleball was born. However, there is some dispute over how the game got its name.
Some claim that Pritchard's wife gave the name pickleball because the game, which is a combination of three sports, reminded her of the "pickle boat", a term used in sailing where sailors are chosen from the remains of other boats during a race. Others claim the game is named after the Pritchard family dog, Pickles.
Pickleball is now one of the fastest growing sports in the United States, which has nearly 5 million players, and throughout Europe. The game has been picked up by celebrities like Bill Gates (who called it his "favorite game" in a blog post), George and Amal Clooney, Leonardo DiCaprio, and the Kardashians. Recently, basketball star Kevin Durant bought a pickleball team in the United States.
Pickleball's journey from USA to India
Pickleball's trip from Washington to India came after Valavalkar spotted families playing there during his visits to Canada in 1999 and later to Cincinnati, USA in 2006. Two years later, he established the All India Pickleball Association (AIPA) in 2008. .
"After I came back from Canada, I thought I could pass pickleball on to others with confidence. I was a member of a tennis club. I gave a demonstration and asked if I could use a court for pickleball. pickleball there. They flatly refused and that humiliation made me determined to continue," Valavalkar said.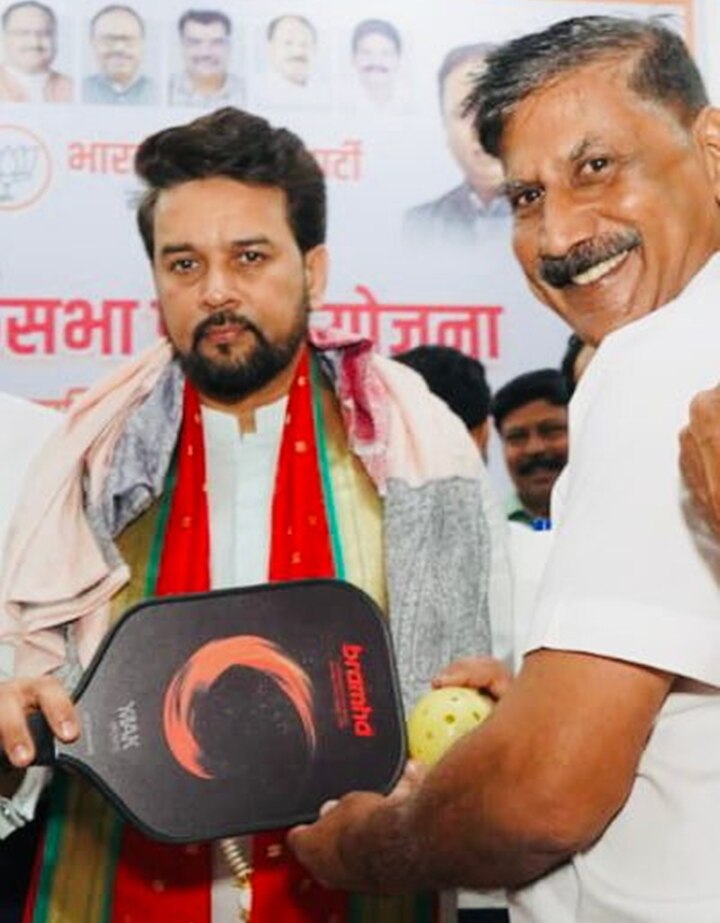 Play resumed in UP after Valavalkar came to a Noida company to demonstrate the sport, which is played across all disciplines – singles, doubles and mixed doubles.
Since then, there has been no turning back, and people of all ages, from eight to eighty, and of all genders have shown tremendous interest in the sport.
As Noida has emerged as the pickleball hub in Uttar Pradesh, play is also picking up in Lucknow, Mathura and Agra, said Sengupta, who is treasurer of UPSPA. "There are over 40 players in Noida currently and the number is increasing every month."
Pickleball popularity and notoriety
To popularize the sport, Valavalkar said, the AIPA also held pickleball tournaments at the club, district, state, national and international levels.
"We also sponsor players in need, including offering financial assistance to provide kit and diet and physiological advice," he said.
In UP, Aman Grover said that UPSPA organizes and trains groups in all districts with badminton/TT/tennis players and organizes training camps in schools and colleges in Noida.
"We received great responses. Such a training camp was planned in Jhansi and it was a great success…we hope that around 50 students will soon choose this sport in Jhansi," Grover said.
By the end of this year, the UPSPA aims to introduce the game to no less than 10 more districts by holding state-level training camps and tournaments every quarter in Uttar Pradesh.
However, there are quite a few challenges in expanding the sport, and one of them is purchasing the equipment. Currently, paddles and balls are mainly imported from the United States. The cost of a paddle can range from Rs 3,000 to Rs 25,000.
Recently, Ymak Sports became the first Indian company to gain United States of America Pickleball Association (USAPA) approval for their paddles.
"Infrastructure is a big ask right now. However, we have tried with local suppliers to enable the conversion of badminton courts to Pickleball courts and we have even linked up with professional companies like STAG to help us with this initiative. to apply rolling pitches to a wide variety of surfaces," said Grover.
As pickleball takes its first steps in India, the UPSPA wants the government to include it in the program of the National Games.
"But we would like the government to recognize and help the players first. Most governments have enough land to provide infrastructure, like dedicated courts, etc. This will help the players, who cannot afford it, to go out and play government-funded stadiums," Grover added.
With India set to host the Bainbridge Cup, the equivalent of the Pickleball World Cup, in November for the first time, it is expected to be another milestone for the growth of the game. in the country.
"In the United States, it took almost 40 years for sports to reach the critical mass of society. Compared to that, maybe in India, we will need less time to reach until 2 lakh people," Valavalkar said.